Providing assistance to Navy families in need
I commend Keeping Watch to you and seek your support in making it a program that will operate in perpetuity and become a legacy for the future benefit of Navy's extended family.
VICE ADMIRAL TIM BARRETT AO, CSC RAN
Message from Chief of Navy
I am very proud to be the Patron of Navy's own charity Keeping Watch. It is an important program that helps Navy better care for and support our officers, sailors and their families in times of need.
The creation of Keeping Watch acknowledges that there are times when short term financial assistance is required to help individuals and families cope with the unique nature of naval service. Keeping Watch is an important means by which members of the naval family can access such help. From everyday living expenses following a family crisis to assistance with education or child care costs, Keeping Watch has flexibility in the assistance it can provide.
Importantly, Keeping Watch is an opportunity for all Australians to recognise the contribution and sacrifice that Navy personnel make each and every day towards the peace and security of our nation. In some cases this comes at a significant personal cost. All donations to this worthy cause, large and small, one-off or on-going will be greatly appreciated and used wisely. Keeping Watch is a recognised charity and donations over $2 are tax deductable. To make a donation click the Donate menu.
Importantly, if you know someone in the Navy family who needs assistance, Keeping Watch may be able to help.
I commend Keeping Watch to you and seek your support in making it a program that will operate in perpetuity and become a legacy for the future benefit of Navy's extended family.
Quilts have deployed personnel covered
Canberra base, HMAS Harman, welcomed representatives from 'Aussie Hero Quilts (and Laundry Bags)' during reception at the Bonshaw Mess recently to thank them for their support to members deployed overseas.

The reception brought together representatives from around Australia to express their appreciation to volunteers from the group, with many attendees having received a handmade quilt or laundry bag while on operations.

The quilts and bags are hand crafted by the volunteers and sent to personnel serving overseas, bringing comfort and a reminder their service is making Australia proud.

Retired Rear Admiral Trevor Jones highlighted the significant achievements Aussie Hero Quilts had made in recent years.

"Aussie Hero Quilts has become an iconic organisation among Australian Defence Force personnel serving on operations as well as those suffering serious illness," Rear Admiral Jones said.

"The quilts, lovingly embroidered, often to each individuals' desire, become family heirlooms which offer, in many instances, operational memorabilia of more personal significance than the campaign medals accompanying operational service."

Rear Admiral Jones described the wonder, joy, gratitude and sense of purpose which passes across the face of each recipient when they open their quilt for the first time and show them off to their mates.

Aussie Hero Quilts was founded in 2012 by Jan-Maree Ball who had previously made and sent personalised laundry bags to a team of soldiers deployed in Afghanistan.

"Aussie Hero Quilts is a community based organisation that makes and sends personalised quilts and laundry bags to our deployed men and women serving overseas to say thank you for your service and the sacrifice that service asks of you and your loved ones." Ms Ball said.

"This is a rare opportunity for my Aussie Hero Friends to get a better understanding of the impact of their quilts and laundry bags on our deployed men and women first hand."

Rear Admiral Brett Wolski, Head People Capability and Chair of the Navy Relief Trust Fund, and Warrant Officer of the Navy Gary Wright, presented Ms Ball with a cheque for $2,000 in recognition of Aussie Hero Quilts and its volunteers' hard work. The funds were from a grant approved by Keeping Watch, the Navy's official charity.

Ms Ball was thrilled to receive the funds, which will be used to make many more quilts for personnel serving overseas.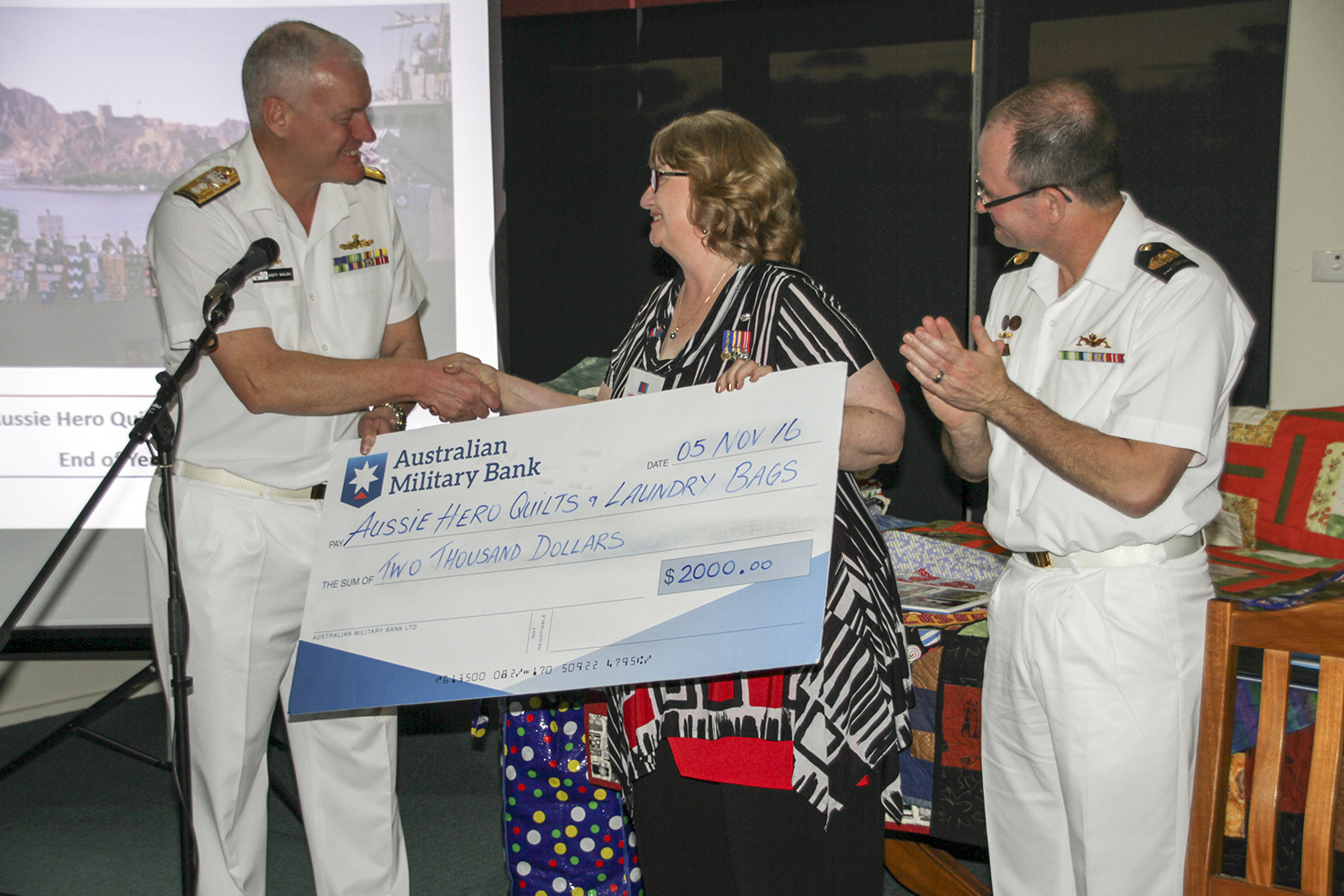 Published on LEUT Ryan Zerbe (author)
Mission Statement
Keeping Watch is a perpetual charitable fund that provides assistance to serving members of the Royal Australian Navy and their families who are in financial need.